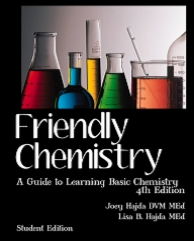 Why Choose Friendly Chemistry?

Used by students world-wide for over 15 years, Friendly Chemistry presents what is often considered an intimidating subject as a genuinely enjoyable experience. A unique combination of concepts, games and lab activities opens the world of chemistry to learners to all ages!


Games, Activities and Labs Videos


We've produced a set of videos designed to let you see and hear how the games, labs and activities in

Friendly Chemistry

provide fun, meaningful practice time of the concepts you are presenting. These videos are arranged according to the sequence they are presented in the course.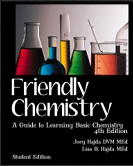 | | | |
| --- | --- | --- |
| | | |
| | | |
| | | |
| | | |
| | | |
| | | |
| | | |
| | | |
| | | |
| | | |
| | | |
| | | |
| | | |
| | | |
| | | |
| | | |
| | | |
| | | |
| | | |
| | | |
| | | |
| | | |
| | | |
| | | |
| | | |
| | | |
| | | |
| | | |
| | | |