Meet the needs of more of your students by using . . .
Friendly Chemistry:
A Guide to Learning Basic Chemistry, 4th ed.
by Joey Hajda DVM MEd and Lisa Hajda MEd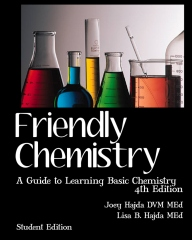 Traditional chemistry textbooks are written with science-oriented students in mind. What about your students who have interests in fields other than the natural sciences? How can you better meet their needs?
Friendly Chemistry is a high school chemistry course which introduces all of the concepts traditionally taught in a chemistry I course, but does so in a unique way. Authors Joey and Lisa Hajda, utilize unique, concrete methods to make the abstract concepts of chemistry easy to grasp. Class games and activities provide ample opportunities for your students to practice the concepts you present. Used successfully by homeschoolers for over 10 years, Friendly Chemistry is now available for use in all educational settings, public or private. Complete with laboratory activities, Friendly Chemistry can help make your job easier and the time your "non-science" students spend with you much more worthwhile.
Would you like to learn more? Read our Frequently-Asked-Questions!
Interested in seeing actual lessons from the text?
Click here to see the Course Introduction (pdf)
Click here to see Lesson 1 (pdf)
Click here to see Lesson 3 (pdf)
To see more sample pages, click here to go to our amazon.com page for the student edition. Once there, click on the link "to look inside." You can do the same for the Teacher's editions. Click here for Volume 1 and here for Volume 2.
Ready to place an order?
To order STUDENT editions of Friendly Chemistry click here.
To order VOLUME 1 of the TEACHER's Edition, click here.
To order VOLUME 2 of the TEACHER's Edition, click here.
To order the MANIPULATIVE SET, click here.
Orders of 25 or more student editions are eligible for a discount. Please contact us for details!
Have more questions? We welcome your phone call (308)-870-4686, or you can click here to email us your questions. Thanks for your interest in Friendly Chemistry. We look forward to helping you better meet the needs of your students!
Joey Hajda DVM MEd
Lisa Hajda BS MEd
---
Contact Us Frequently Asked Questions Daytime phone: (308)870-4686 Email: hideaway1@gpcom.net